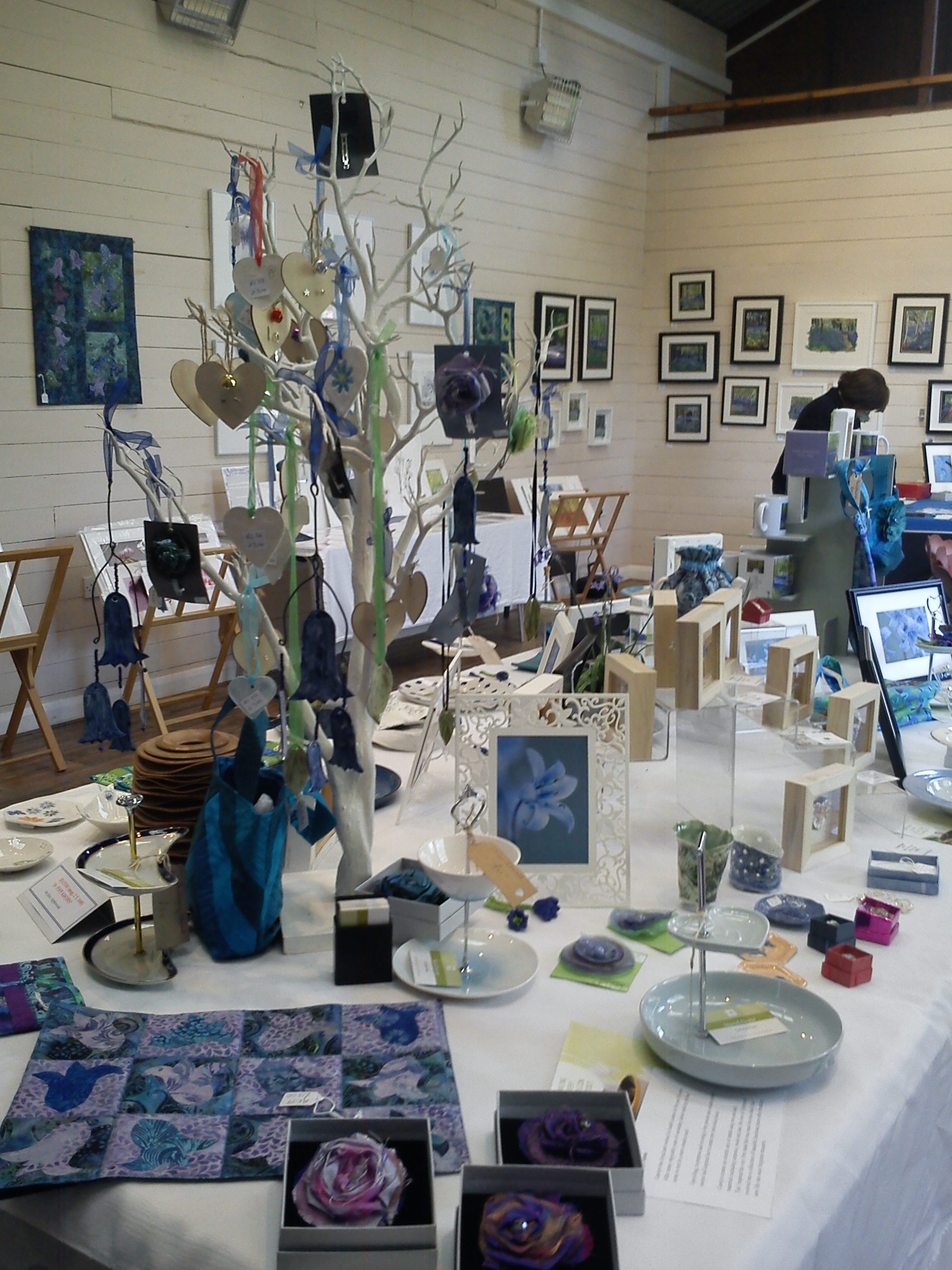 Festival of Bluebells, Riverhill
Wednesday, May 3, 2017
A feast for the eyes!
Our central display showing the diversity of crafts that were all based on the theme of bluebells. The walls were hung with fabulous pictures of flowers and bluebell inspired paintings and textiles. Riverhill saw record numbers of people coming to visit the gardens and exhibition. When talking to poeple I realsied what an impact social media had had. Many had programmed their SATnav and just come because they had seen it on Facebook. Food for thought when planning events.
Photograph to embroidered picture
Thursday, February 16, 2017
The autumn colours last year were so stunning. On a holiday on Exmoor I took numerous photographs of a walk alongside the stream at Tarr Steps.
This is one that I've chosen to use for an embroidery.
I have photographed the process that I work through from canvas to embroidery.
*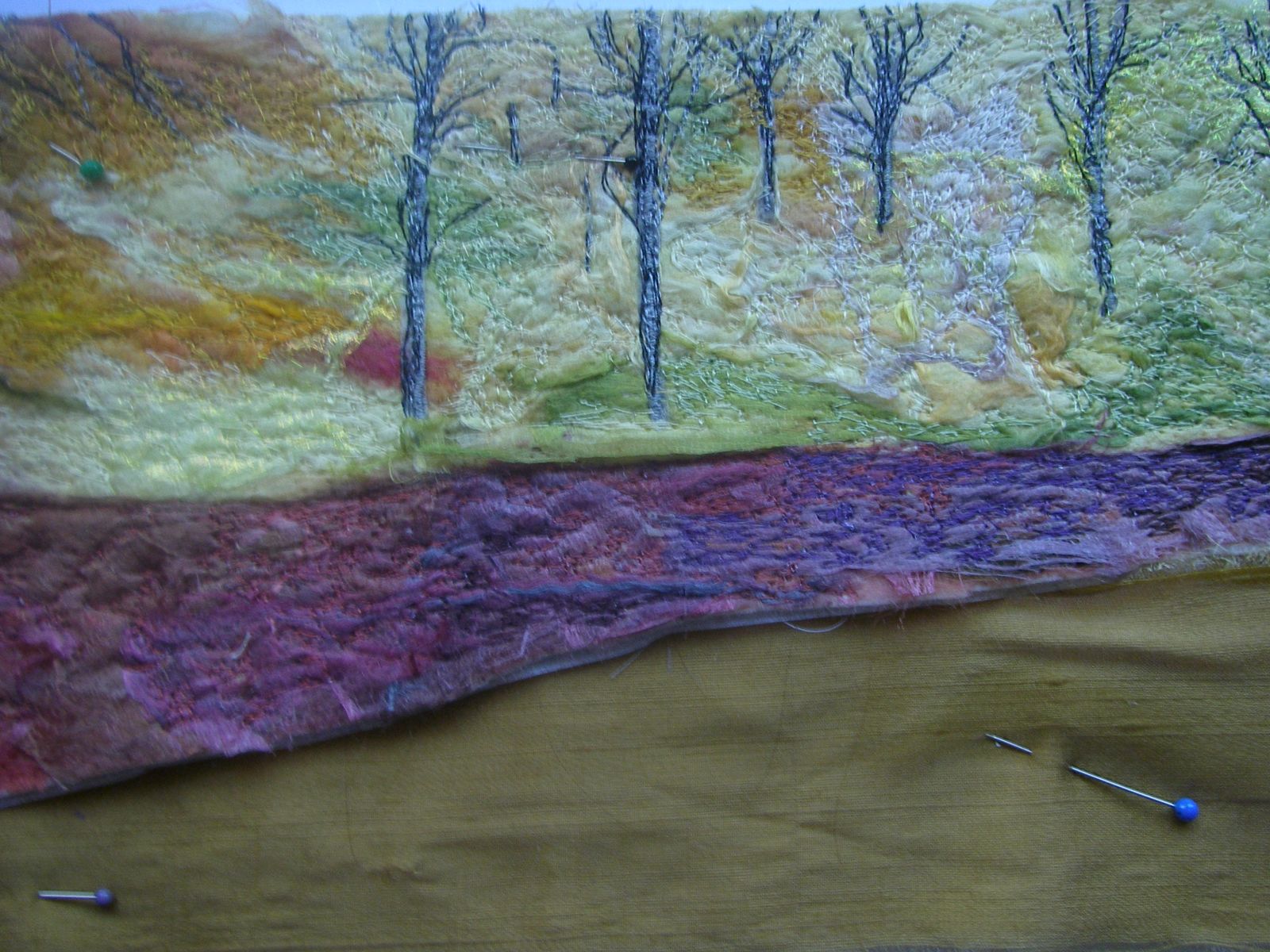 I identify the  distinct areas of the photograph and use separate layers of fibres and stitching to lay down a background to work on.
*
**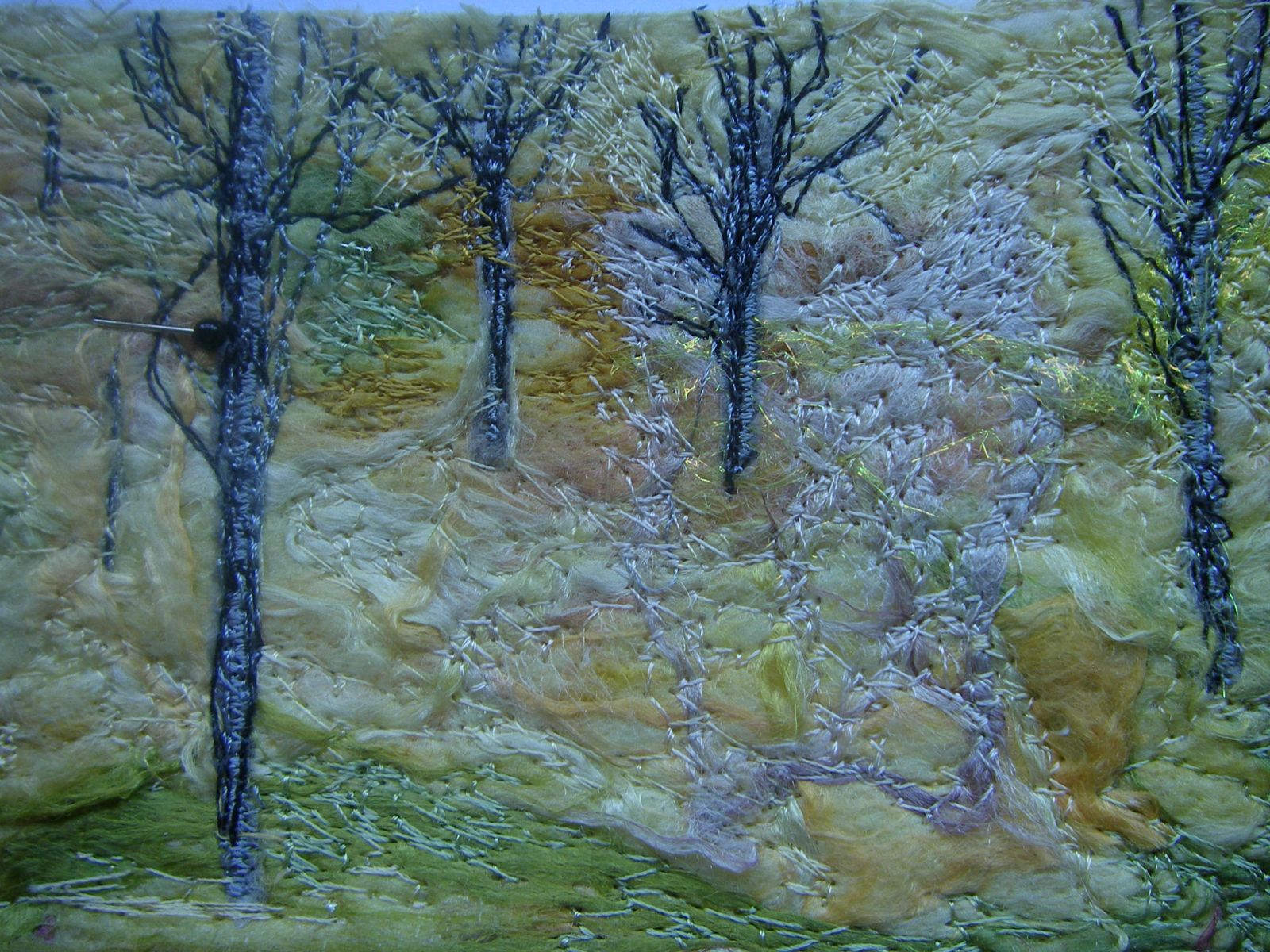 Next I build up the background with fibres and then use straight & zig zag free machine embroidery.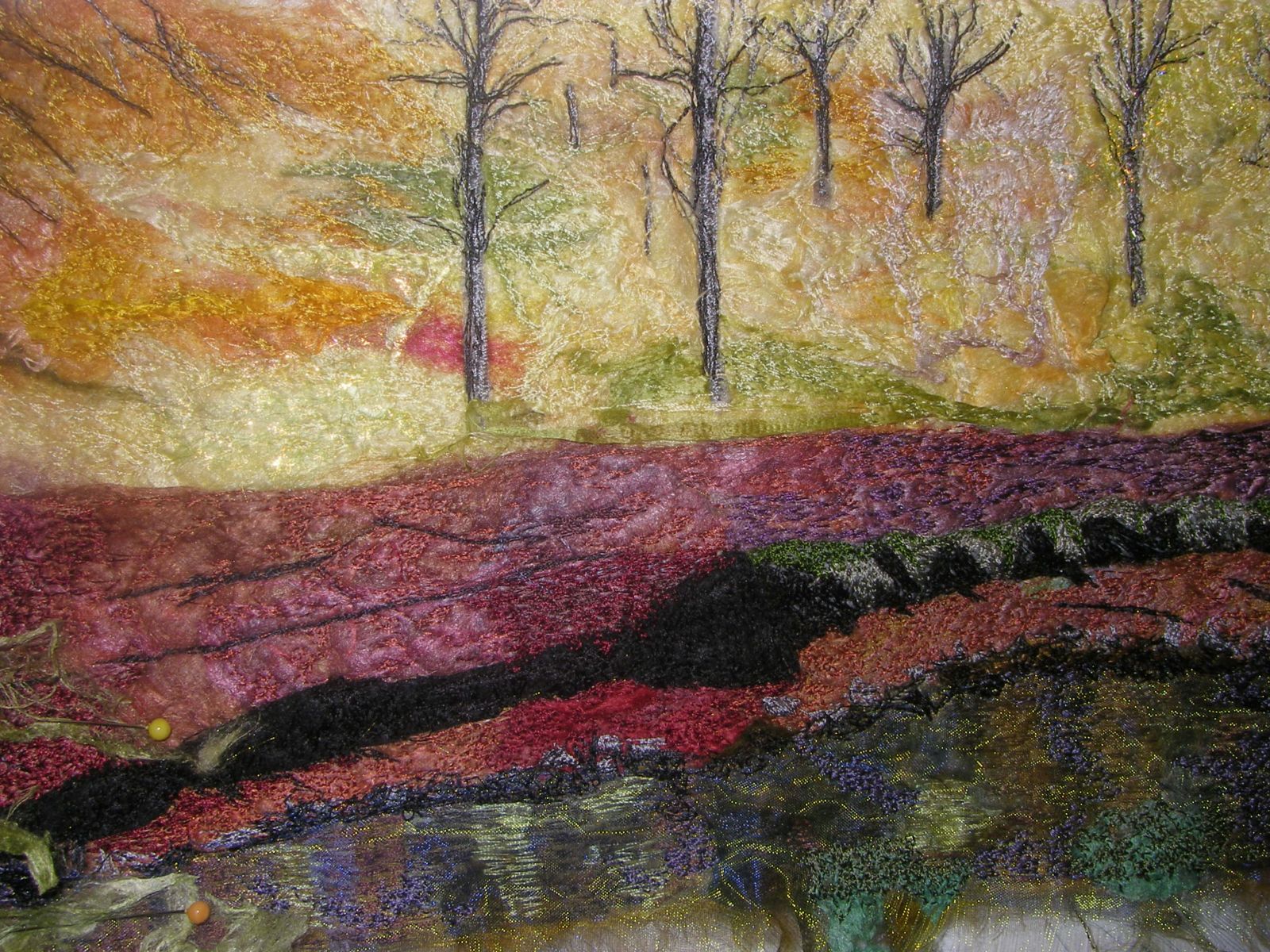 I now add the layers for the bank and stream. Angelina fibres are incorporated to give shine for the sunlight on the fallen leaves.
To achieve the appearance ot the water I overlay the fibres for the reflection with blue/green chiffon.
This detail of the water shows the silk paper that is overlaid on the chiffon and then free machined.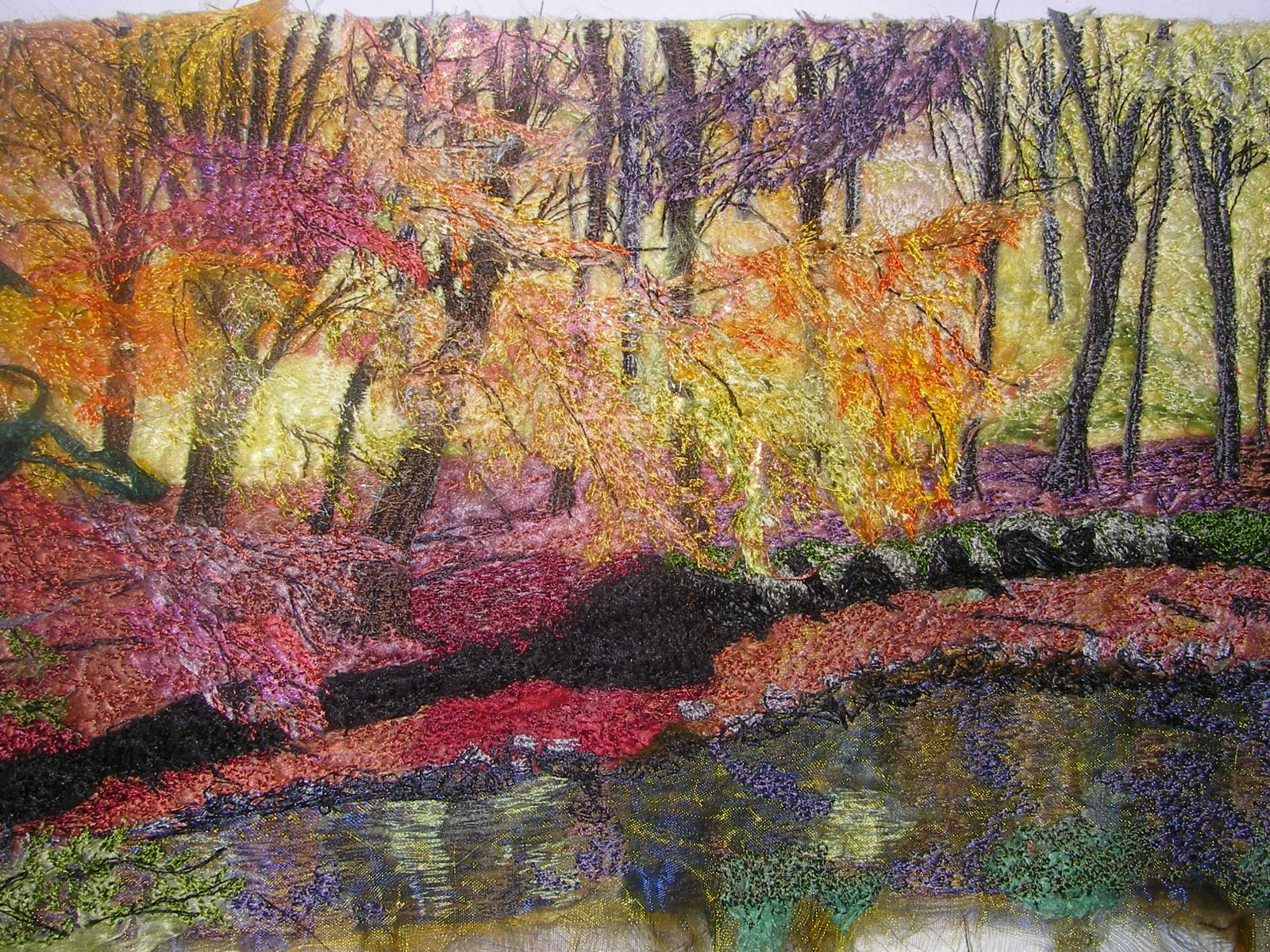 I make silk paper to give me the form and texture to add more surface decoration.
This is then free machined, layered again and machined until I have the finished piece.
I have many more photographs to use so keep following.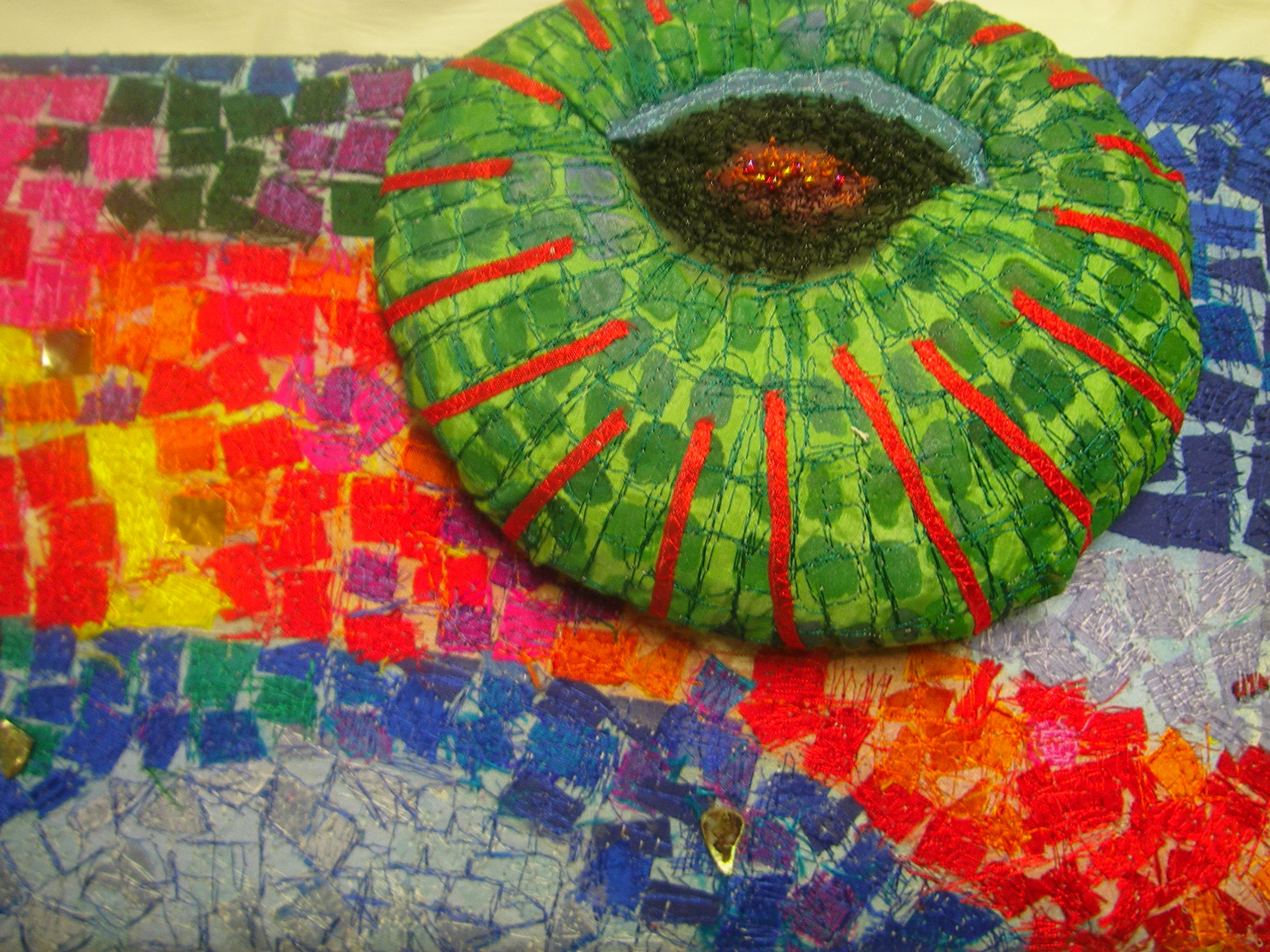 Grandson's commission
Thursday, January 26, 2017
When your 8 year old grandson sends you a specfic picture that "Nanny might like this for inspiration" a response is required.
A large octopus scultpture that he liked when visiting The Yorkshire Sculpture Park.
It set the brain cells working.........Was I going to make stuffed legs attached to a canvas, how to get a mosaic look?
I decided the whole octopus was not the way to go so I selected it's fantastic, sculptured eye.
I painted a piece of canvas to give me a base colour. I then cut up and bonded pieces of silk which I then free machined all over.
The eye had to be a statement! Silk ,paint, stitch and moulded bubble wrap became a 3D eye that I stitched on.
All this wrapped over a canvas frame.
I was very pleased with the final piece.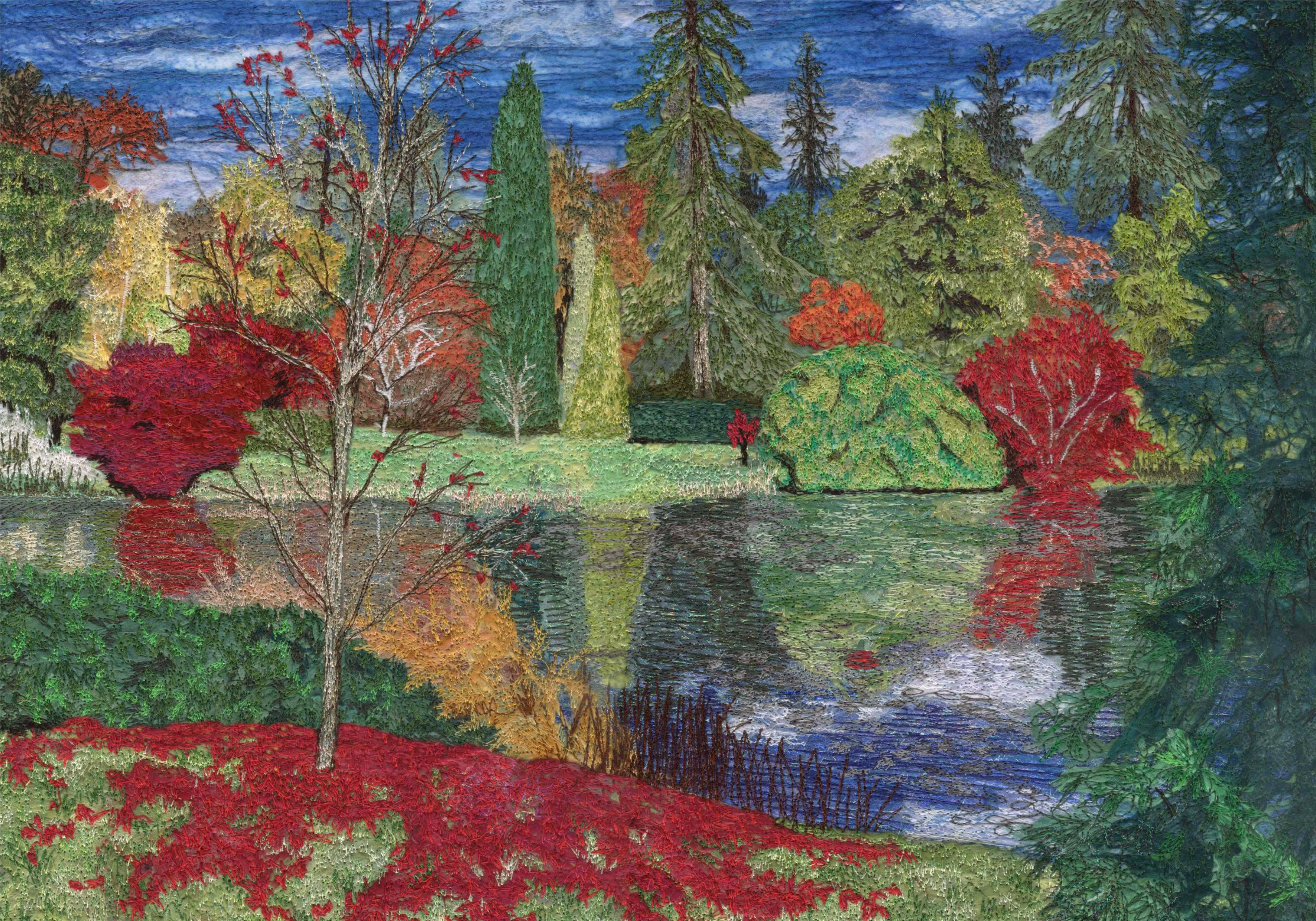 Tour is Finished
Thursday, December 15, 2016
The Embroiderer's Guild Capability Festival is over and this week my "Blaze of Autumn Colour", from a phoptpgraph I took at Sheffield Park, returned home.
This time last year it was only in the design stage . I was able to view it, along with all the other exhibitors, at The Knitting and Stitching Show, Alexandra Palace. I felt very priviledged to have my work hanging alongside well known embroiderers.
I haven't mounted my work on a backing fabric and then wrapped it round a canvas before but this certainly worked and gave a more contemporary look.
Definitely a way forward for the future as no frames and mounts are necessary.